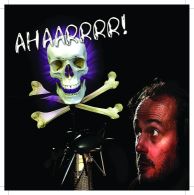 'Ahaarrrr' is my first short film. It features me acting with me.  Though one of me has a beard. And one of me is a twat. And my mate Paul as the engineer,  is in fact…an engineer. He engineered my Bay Citee Molars album. And my Eggshell Heart album. With Jerry O'Riordan at the Snakeranch. He tried to get himself cut from this. No chance! He's too good!  I mention that it's me playing opposite me as several people have asked who the bloke is who hasn't got the beard.  I'll tell you. IT'S ME!
IT'S ME!
When we were shooting it it became very obvious that there were too many stops and starts and getting to speed and wee breaks and touching ups from make up and with an hour to go till we were out of Angell sound where it was shot, the crew suggested we weren't going to finish. I suggested back that it was only fifteen minutes long so why didn't we just do all fifteen minutes of it and then do it again. With this novel approach we actually shot the film three times (it was just the reverses on me playing the producer as we'd done all the bits on me as the voice artiste first).
Festivals
It did rather well at a variety of festivals all around America and England and Ireland  though several important festivals rejected it which I still find very confusing to this day. Perhaps I should re-enter it, festooned with its awards. It got to the finals of 17 Film Festivals worldwide including the Angel, the Hollywood, the ECU, the Rome, the Stratford Upon Avon, the Mid Ulster, First Sundays (LA), and the End of the Pier Show Bognor. It won about 6 awards, including critics choice at the DIY Festival in LA, a special mention at the Oxford in the States and the Alex Southampton  where it was best comedy. Though I'm not sure that that festival was particularly well attended the year I entered it as the 'awards ceremony' took place in the middle of a busy pub where large numbers of clientele were there for a drink and not to look at any films being shown on the small telly in the corner. The bloke running it also asked me to contribute to the budget of a film he himself was making. I declined.
The Mid Ulster said:
'Written by and starring top English voice over and actor Jonathan Kydd, Ahaarrr! Is a hilarious comedy that explores the almost horrific and frequently humiliating world of voice over advertising.'
Here it is: