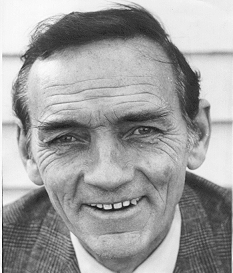 My father never knew how many films he'd made, or whether he was in them! I remember watching a film in the sitting room on TV one Sunday afternoon while he was in the kitchen reading the papers. The title appeared. 'The Magnet". I asked him if he was in it. 'You in a film called the Magnet?' I shouted. "Nar" he shouted back. He immediately appeared running down some steps a couple of scenes after the titles. He was the postman! He as the postman then said 'Wait a mo' and helped a young James Fox retrieve his bell that had fallen down the roof on a string. . 'You're in it! You're in it!' I shouted back into the kitchen. 'You're the postman!' 'Oh yes! I am. I remember now! What's the name of the film again?' 'The Magnet! Are you in it anymore?' I asked. 'Oh yes!' he replied enthusiastically. 'Come to think of it I think am!' I watched the whole film. He wasn't!
Reel
Here's some of his stuff. It just tickles the surface of what he did.Not even tickles! Strokes! I'll put more up asap! The I'm Allright Jack clip is cropped for some reason! There's a 'why don't you f-f-f photograph something else' line I must put up here.
Career
His career started in the Thirties as an MC for various big bands like the Oscar Rabin Band. (His day job was in the bedding department in Whiteley's Department store in Bayswater in London! Then he worked for Alvis cars.) He would tell jokes, (I found his jokebook recently. A lot of puns!) do a few impresions, tap dance a bit (he even gave tap lessons in his mother's house in Chiswick, West London. He had his own board. That's all you needed apparently!) and introduce the singers and guest artistes etc. And possibly croon a tune himself. He also entered Talent contests. He told me, if you were any good and went on sixth (out of a showcase of nine people) you'd probably win! There was a cash prize. There was a sort of circuit. You'd see the same people over and over again. I suppose it was a bit like being a stand up comedian going from hall to hall as an 'open spot'.
Army Life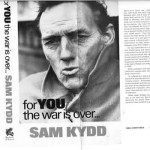 As his father was in the army, Sam had joined the Territorial Army in the late nineteen thirties, but rarely attended. However, when War was declared, he was naturally one of the first to be called up. After training, he was sent out with the British Expeditionary force to Calais. He was captured. His book "For You The War Is Over" about his five years in a prison camp, is worth reading. He makes light of the immense deprivation and ill-health he suffered.
Post War
After the war he carried on 'MCing', but got into his first film "Captive Heart" by answering an ad in the paper for 'advisers' on a film about Prisoners of War. The 20 advisers were used as supporting artistes as well as 'advisers'. I suppose if you've just been a POW you can certainly act like one! (He told me he was only given a part because the Producer fancied his friend. But as usual I suspect my father was being modest). He was also given several lines to say. And thus his life as an actor began! He was soon in rep at Skegness and then in a revue in Germany with a very slim Harry Secombe and an actress called Vanda Godsell (there was a picture in the loo at home of them all). Harry remained a lifelong friend. I still possess several of his Christmas cards.  Jack Warner, who was of course Dixon in "Dixon of Dock Green", was in "Captive Heart" and also became a chum. My father was in every series of Dixon, frequently playing a burglar with a heart of gold or a reformed criminal enticed back to one last 'job'. He was also in every series of 'Sykes' as Eric Sykes was also a pal. As was Harry Worth. And Benny Hill! My dad worked with them all regularly!
Films
But it was initially as a film actor that he began to make inroads into the business and establish himself. The parts were frequently small but he would go from film to film amassing experience and credits. If there was work he'd try and fit it in (something I'm glad to say that I've inherited) There's a lovely moment in 'I'm Allright Jack' (the film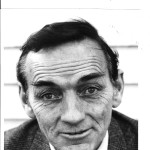 where he utters the great 'Why don't you f..f..f…photograph something else' in big close up) where he's in the group speaking to Terry Thomas, and the group exits to speak to someone else. They then march across the open space between the offices and all reappear to chat to someone else in the other office. He's in the first group, and in the second group but not in the group marching to the other office. That was shot on another day when he was off working somewhere else! 'Yes they gave me the day off and then changed the filming schedule' he told me.
TV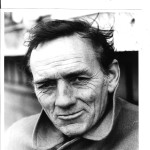 His numerous TV appearances ) include: Dixon of Dock Green (many episodes), Pickwick Papers (as Sam Weller), Shadow Squad, Man in a Suitcase, Sweeney, Saint, Persuaders, Robin Hood (regular), Crossroads (regular), Maigret, Adam Adamant, Cluff, The Protectors, Dangerman, Dad's Army, Z Cars, Softly Softly, Arthur Haynes Show, Dick Emery Show, Eric Sykes, Curry and Chips (series), Fosset Saga,(series) Crane (series-26 eps), Orlando(series (18 eps), Mess Mates (three series), Arthur Askey Show, Benny Hill Show. (Many eps), Rag Trade, Hancock's Half Hour, Follyfoot Farm, Coronation Street, (he was Mike Baldwin's Dad).etc etc etc
Orlando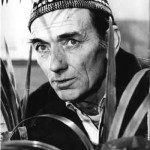 The series Orlando was the spin off from Crane, which starred Patrick Allen and Gerald Flood and Laya Raki. Orlando attracted so many viewers for a children's programme that there were moves afoot to change it to a later adult slot. But this never materialised.
Actually this doesn't do him justice at all. There were thousands of tellies. He even introduced the TV programmes after the News at six for a period in the late fifties dressed as different characters. He wrote all his own scripts! He was a character called 'Fred the Burglar' on the box as well, who found it easy breaking and entering and advised people how to make it easy for him! I remember when I was a kid people stopping him in the street asking for his autograph as Fred. Or shouting out 'It's Fred! Don't burgle me Fred! I remember going to watch Chelsea Football Club with him and him being mobbed! 'Lend us a quid Sam' people would shout. He did a 'Look at Life' film about what not to do on holiday (This was a regular 'add-on' film between features at the cinema). He was in Armchair Theatres, Play for Todays, you name it. His roles for TV were much bigger than his film roles, and I can't help but think that if he he'd been handled better, his career in films would have blossomed. In this day and age, his huge telly career would have made him an enormous celebrity. As it was, he was still very very well known.
He was on 'This is Your Life' in 1973. Here I am talking about it wearing a very peculiar beard I'd grown for Marshal's Law'.
There is a very good Facebook page on www.facebook.com/pages/Sam-Kydd-a-regular-fixture-in-British-film/114963125253077
Here's a radio he did in 1970 with Richard Briers and Peter Jones
It's Brothers in Law

Here's another. It's Jimmy Edwards' Whacko!