News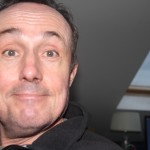 (My award winning Ahaarrrr short about a hellish Voice Over session is at the bottom of this homepage. Scroll down!)
New Stuff: Just recorded 'Hal' with comedian Hal Cruttenden in January playing about 10 characters. It's on Radio 4, My latest acting reel is at the bottom of this column. My new animation reel is on the right. New games reels up are here on the right! My comedy band The Rudy Vees' promo vid is up on the right fourth down.
Here's a still from  comedy series 'Vikingsgane' that I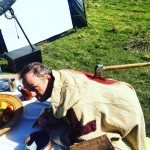 was in, in Norway! I was playing the nicest man in England! I got killed! Note the axe!
Five down is a Channel 4 High Speed Formula1 Radio Promo which is just showing off really.
And there's an Assassin's Creed Syndicate 'Pain' reel at the bottom on the right
My musical  once called 'The Bouncing Doodle U Boat' which I'm writing with American Idol's Andy Street is now called 'Doodle'.   There are pics of the half hour we did at the Lost Theatre on the Musicals page. Did a good reading at So & So Arts Club! And another in Kydd Towers. Got it down to 2 hours! Works well! What to do next? Workshop? I've recorded a radio version! And am doing a 'mood reel' to put on Vimeo! In fact here's the trailer! It's up on Vimeo now!

New Voice over radio idea being pitched by Made in Manchester.
Film screen play half written! Hope to shoot it next year with Joe Greco! Very Indie!
Here's a vid of me doing some recent voice overs in the studio in a compilation on the right!
I'm broadcasting with the Chelsea Fancast podcast   with the legendary Stamford Chidge at the mo !  The show won the Football Blog Awards Best Podcast last season! I'm on practically every Monday! The Blues are doing ok under Conte!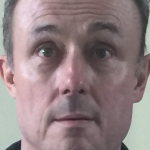 Gazprom CFC vid I shot is up on the Chelsea page.
Voice over wise!…….I'm doing the Mitsubishi ads on Talksport..just done an LV100 vans one! ..and Virgin Radio Did a doco series called  Airport Alert –   and some singing for McCasso! And another doc for Discovery.  Plus masses of Fox promos! And BBC Panorama and BBC World News! And Animal Planet. And more Panorama. And more Airport Alert! And Voice of God for Times Best Small Businesses! And Film 4! And Film Fear! And Quest! And MTV! And C5!  And 'Hitler's Games' doco for GreenRock!  And 'Mister Men' for Heathrow. And Mitsubishi online! And a doc for Nat Geo about Jackals! And a Nissan Radio! And Discovery sponsorship! And Ford! And more Beechams! And Al-Jazeerah! And ITV Dark Angel! Did 'National Treasure' for C4. And Scy-Fy Exorcist! And Librarians! And `bitten!
I'm in Noddy Toyland Detective for Dreamworks playing 7 characters in 52 episodes including 'Big Ears' and a robot called 'Fuse' and a parrot called 'Scurvy'. It's on now on Milkshake! I've also done the US version! Big ears is 'Mr Squeaks!'. It's on Sprout now!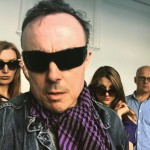 My band The Rudy Vees were a HOT TICKET last year at the Camden Fringe.
Did  the Canal Cafe Theatre in Little Venice  Rabbit Hole in Hampstead.  And the Phoenix Artist Club.  & Boogaloo in Highgate went down a storm! Gig at Rock n Roll Kabaret at Proud Camden was great! Gig at Water Rats fab also. Canal Cafe 3 gigs great fun and well attended. Next gigs at Boogaloo, North London Tavern! The Miller with Prettypeople excellent! I got hugged by a fan! Chickenshed and Guns and Smoke gigs!  Rudy Vees Channel on You Tube!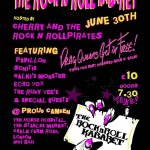 There's a vid on the Rudy Vees page of 'Dance Like my Dad!' LIVE at the Rabbit Hole in Camden.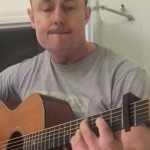 Also a LIVE version of Zombie Girl. It's looong! But fun!
There's a new 'accents of the world' vid on Voiceovers within! And a vid of me voicing in the studio.
There's a C4 Railway Man vid voiced by me and a Film 4 Twelve Years a Slave vid here on the right at the bottom
I've written a book about acting! Tentatively titled  "Faark: An actor's Diary Part One August to April". Finished it! Now working out where to send it!
I'm speaking about my dad Sam Kydd in Rickmansworth for Talking Pictures TV in Feb. I've found an unpublished autobiography in my mum's loft.
Here's the acting reel.