This is 39 Sheep which was cut into segments for Peter Dickson's Nightcap starring John Quayle. I'm playing Paraquat Khan and sundry others!
I've done lots of comedy episodes on BBC Radio 4 (extracts below) including the recent Hal Cruttenden's series 'Hal', the last ep of 'Cabin Pressure', 4 series of 'The Castle' in which I play Duncan and Thomas, 3 series of 'Chambers' with James Fleet and Sarah Lancashire (above) and John Bird, (later 12 eps on BBC TV) 2 series of 'Dial M for Pizza' with Robert Bathurst, Mike Grady, and Brenda Blethyn (pic on left) , one series of 'Taking it Up the Octave', 2 series of 'Nightcap' with Brian Bowles, Sarah Thomas and Phil Cornwell, and 3 series of 'The Attractive Young Rabbi' with Henry Goodman and Tracy Ann Obermann.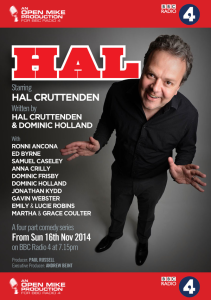 Also selected roles in 'People Like Us', 'Perseus Pym Investigates', 'Best of British', 'Tintin' a whole series of 'The Story so Far' by Paul B Davies, 'The Fosdyke Saga', produced by Alan Nixon' and 12 episodes of my own segment written by me called 'Robin Gunn' in the children's series 'Catswhiskers'. There are others…but I'll need to access some part of my diminishing brain cells or archived CVs to find em! As I said, I did the last ep of the brilliant Cabin Pressure. Here's a pic of the stars of the show, Stephanie Cole, Benedict Cumberbatch, Roger Allam and John Finniemore with producer David Tyler with whom I have worked a lot in the background
This one below was at the after show dinner.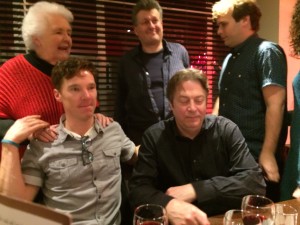 Here are some stars of The Castle. Ingrid Oliver, Neil Dudgeon,  and Stephen Kynman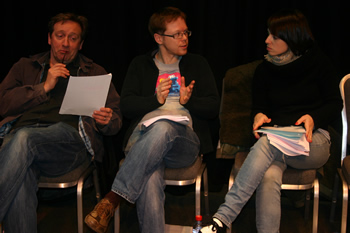 Here are some stars of 'Chambers'.
James Fleet. John Bird. Sarah Lancashire and er me.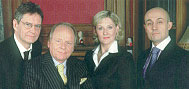 Here's a Dial M sketch with me Mike Grady and Robert Bathurst.
This is the Ginger Triangle from Nightcap!!

Here are a few Happy Hour extracts:
Here are a couple more Dial M for Pizzas extracts
Here's some Castle:
Here's some Chambers:
This is from Cat's Whiskers presented by Bernard Cribbins. It was my very own creation Robin Gunn!