My vid of Guus Hiddinck falling over in the melee at the end of the 2015-16 Spurs game.
Didier and JT on the bus. Two legends.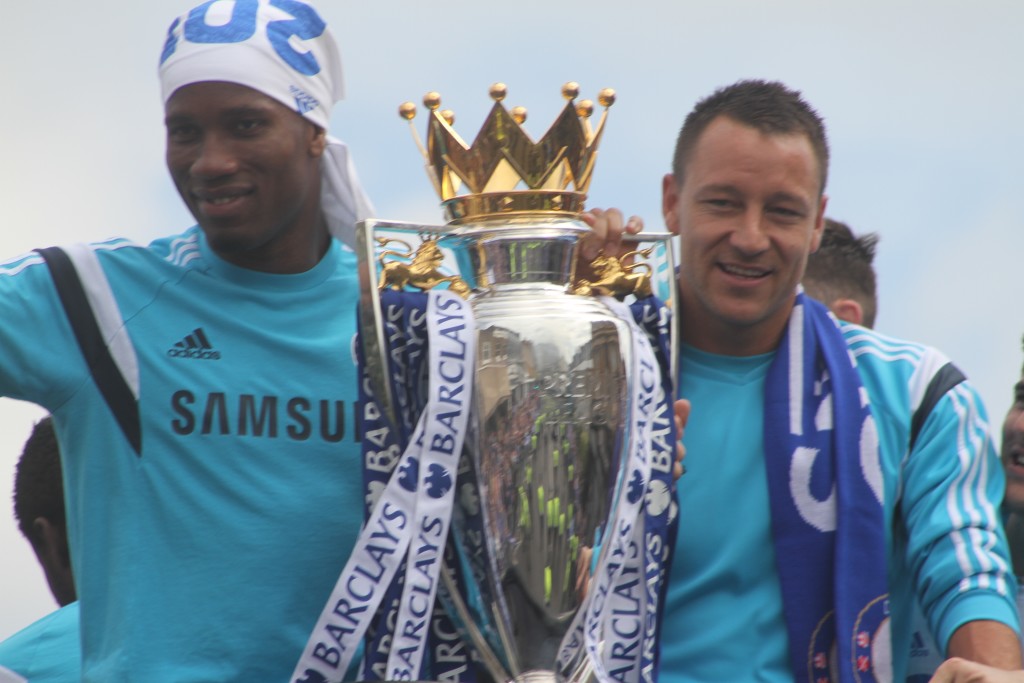 Here's me with Stamford Chidge (David Chidgey) on his award winning Chelseafancast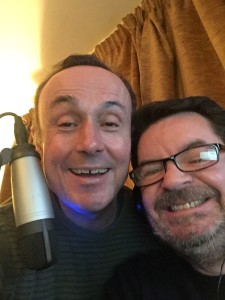 Here's my Chelsea song. I wrote and shot the video. That's me singing on it as well!
Here's the Gazprom vid talking about the season that I'm in. It was shown at the Bridge at the Sunderland game and is on Chelsea TV
Here's a Champions of Europe chant
I podcast and Vlog about CFC. Here's when I presented the Chelseafancast on TV
Here's a video blog of Chelsea V Cardiff.  I only managed 20 minutes of the game as I thought it started at three whereas it was at 12.45 so the vlog is about me getting there:
I've been watching them since I was a baby! My father supported Chelsea and had a season ticket in the East Stand. In his heyday he sat next to Richard Attenborough and John Mills. Vidal Sassoon the hairdresser was just along the way and like the others was a friend of my Dad's . The cream of showbiz agents and writers and actors watched the Blueboys in the 60s, mostly in the East stand just by the directors' box.  He had been watching Chelsea from when he came over from Belfast in 1928. He actually had a trial for QPR though! There's a bit of film of me at Cfc v West Ham in the 60s on my 'Life of Gurning' vid which is on the site.
Craven Cottage
He would watch the Blues and then when they were away, stand at Craven Cottage in the Enclosure as it was known, with Tommy Trinder and Chappi Di Mato, the Chairman and owner, and a group of out of work actors, or go to Loftus Road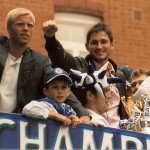 and meet mates there. He was at the Bridge when Chelsea played Moscow Dynamo in Nov 1945 and watched from just beside a goal post! He took me when I was a baby and then repeatedly had me on his lap for many games that obviously made no impression on me at all. This was an era where kids would be hoisted over the turnstile without anyone batting an eyelid! He told me I saw Jimmy Greaves score four goals in one match though I have no recollection of it. I do remember using my dad's ticket to go and see CFC play Portsmouth in 1963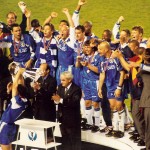 when they scored 7 goals and Bobby Tambling scored four! Once again I don't remember the game at all, apart from one sketchy memory of a burly half back called Frank Upton scoring from the half way line and having the goal disallowed for off side. Terry Venables and Barry Bridges were my favourite players of that period soon replaced by Charlie Cooke and Johnny Hollins. Then Alan Hudson. And of course the great Peter Osgood. I pretended to be ill so I could miss school to go to Old Trafford to see the 1970 FA Cup Final!  We drove up and parked flukily near the ground as my father was mistaken for Brian Kidd's brother, (Brian Kidd being a famous ManU footballer of the time, and now a coach at Man City). 'Let this bloke in it's Sam Kydd!' said the steward. 'Who's he?' asked his pal on the gate. 'It's Brian Kidd's fooking brother that's who!' After we won we were spat at by a group of Leeds fans. I enjoy singing the 'We all hate Leeds' song as a consequence and do not ever stand up for hating Tottenham.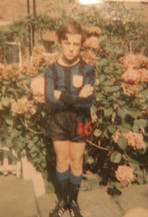 This above is me dressed in 1966 Cfc/Inter milan kit which we wore v Sheffield Wednesday at Villa Park in the Semi Final of the FA Cup. I am somewhat inappropriately posing in front of a hydrangea in the garden which has completely upstaged me
Here are the blueboys warming up at the Allianz prior to the glorious night in Munich.
Didier just below me in the crowd rushes to avoid the wasp swarm of photographers to show the trophy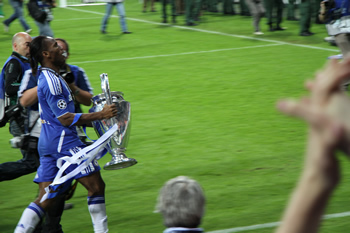 The mass of Chelsea fans just before the 1997 FA Cup Final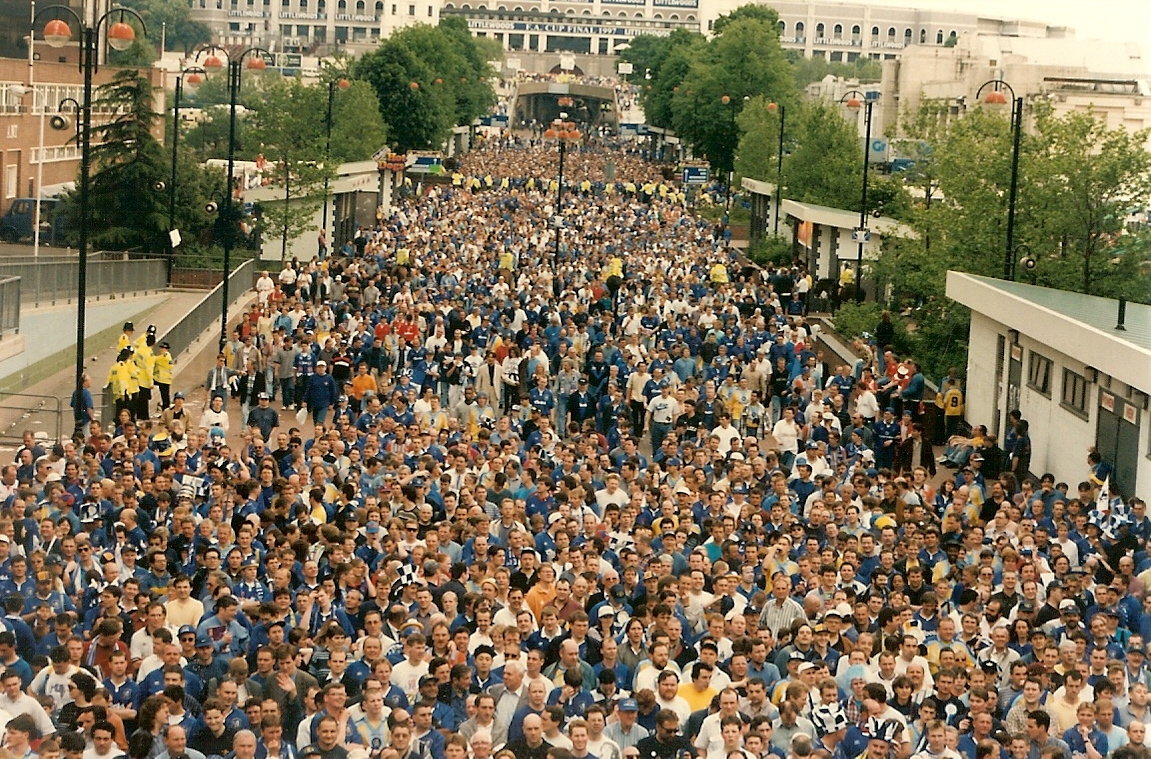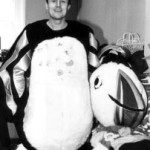 Stamford the Lion

Hugh Hastings the photographer at the Bridge in the 80s, got me the job as the first ever Stamford the Lion. I'd only recently been Fat Puffin at the Puffin Books Exhibition.  And a cat in a film.  For a period I seemed to be doing a lot of acting in animal costumes. I suppose one's reputation grows. Anyway Hugh was inspired by my being a dancing Puffin and asked me if I'd like to be the new Chelsea Football Club mascot. I of course leapt at the chance. I met the Marketing Manager, Mike, and convinced him that with all my animal experience I was indeed the man for the job. I even suggested they have a Stamford cartoon strip in the programme which they eventually did. We discussed how the Lion should be a running jumping iconic animal that reflected all the positive aspirations of the team. Consequently my routine was very athletic involving running out of the tunnel in the very heavy costume (I only wore underpants underneath it coz it was so hot and heavy) staggering energetically into the centre circle, bowing to all four ends of the ground, including the opposition supporters who were then at the the North end (now the Matthew Harding  end. 'Who the f*cking hell are you?' chanted opposition fans) going round the edge of the East Stand and Shed end and giving hand shakes to everyone and booting a football into the Shed end goal and wheeling away having scored! I would then run back to the tunnel entrance and await the players' coming onto the field and attempt to give them all high paws or shake their hands and then kick the ball about with the players. I would escort the small boy or girl out as well who was the human 'mascot' for the afternoon or evening.
Golden Lion
The golden Lion outfit in blue shirt and shorts and white socks and huge plastic boots and massive lion head had been made out of very heavy plastic with a sort of girdle thing on the inside of its chest to keep it strapped in place,  assembled with hooks and eyes and not velcro and I found I couldn't get the costume on or off on my own.  Before the game Hugh had assisted,  but then he went off to take the usual photographs behind the goal.  Though I remember on one occasion he wasn't there and I couldn't get in! Also we hadn't planned what to do after I'd been 'The Lion'  and needed to 'De-Lion'.  So after I'd done my roaring duties on the pitch and run back down the tunnel, exhausted by my exertions in this large furry plastic sweat box,  I returned panting to the home dressing room where I had changed out of my jeans and tee shirt, and attempted to get out of the lion legs and body. The head just unclipped. After about ten minutes of fiddling about with the hooks and clasps to no avail, I decided that if I lay on the ground I might manage to access the most difficult clasps on my back and in order to do this,  I found myself thrashing about on the floor, like a bizarre human headed lion-fish hybrid gasping for air, and having tortured myself for several minutes and got cramp, I finally gave up and just lay there in a muck sweat. With about ten minutes of the first half remaining, the bloke who served the tea turned up. 'What are you doing lying there?' he asked.
'I've just been the lion!'
'I can't get out of me costume' I replied.
'I've just been the lion!' I added in case he wondered what and who the costume was.
'You need some 'elp Mr Lion!' he said stating the bleeding obvious and he unhooked me.   Once changed I wandered back into the tunnel to watch the remaining five minutes of the half where a beady steward approached me.
'Yes?' he spat as if I had strangled Kerry Dixon.
'I've just been the Lion!' I said keenly as if he'd change his tune and congratulate me.
'And I'm Peter Osgood' he replied grabbing me roughly and pinning my arm behind my back. 'Out you go!'
And he actually bundled me out past the back of the East stand, feeling my collar, past the turnstiles and out of the ground!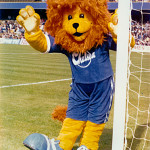 I thought I'd be prepared for the next game. I asked head of marketing Mike for someone to help me disrobe and also to tell this baldy steward bloke that I was not to be ejected after I'd done my Lion duties. Clearly the message didn't get through as at the next match, first of all I couldn't even get in and had to find Mike to get me in as no one would let me into the tunnel, ('I'm the lion for fuck's sake' I had been forced to shout) and then once again after a lot of leaping about and bowing and hand shaking and sweating and 'goooal'ing and air punching, there was once again no one to help me off with the 'frock' and I once again met the tea bloke who said 'Blimey you again! I suppose you need some 'elp Mr Lion' and I was once again greeted by baldy angry git steward  who frogmarched me out of the ground and deposited me in the Fulham Road again.
Third Match
For the third match I managed to obtain an access all areas pass and a spritely secretary to meet me after my Stamford excursions to get me out of the outfit. The ghastly steward (who still 'officiates' at Chelsea to this day, the bastard)  rushed eagerly up to me. 'You again? You a glutton for punishment?' he asked, incredulous thatI had come back to be thrown out once more and I must be a sadist but I waggled the plastic pass in his face and he emitted a cartoon like 'Grrrr', went puce in the face and stomped off.  How I laughed! The next day I was sacked. I lasted 3 games. I was too expensive. I'd charged a tenner a time. Hugh called me to tell me they'd got someone cheaper. I was replaced by an old retired bloke who had great difficulty walking in the outfit, used to accompany the child mascot onto the pitch holding his or her hand, conduct 'Blue is the Colour' in the centre circle and stumble off. No leaping. No kicking. No 'aspirational' 'energetic' 'positive attributes'.  Just wandering on and being there. And he did it for nothing. He did it for the pride!  When he died recently there was an obit in the programme that said 'the very first Stamford has passed away'. But he wasn't the very first Stamford. I was.
The Stamford pic is copyright Trevor Heath btw Black and white pics in the vid copyright Hugh Hastings
Some pics I've taken. More to follow.