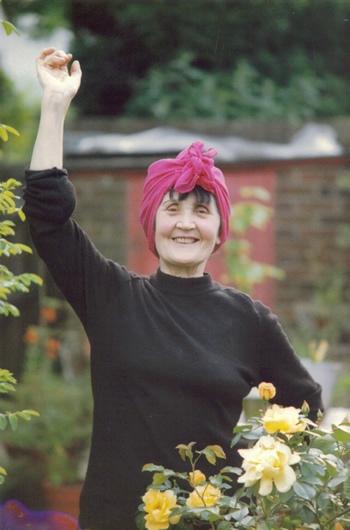 My mother 'Pinkie' Kydd, also known as Lavender Kydd and Lavender Barnes… and occasionally Roasmund…She had a problem with her first name you see, Lavender,  because it got shortened to 'lavvy' which at the time, before the word 'toilet' meant loo, the word used was 'lavatory', which became 'lavvy'  and she didn't like it. It was like being called Urinal. She tried using her third name (three names! Ooh there's posh!) Marguerite, but that reduced to Marge and she didn't like that either, so when she was nicknamed after a filmstar of the thirties 'Pinky Barnes' she held onto the nickname and it rather suited a world class Table Tennis Player which from 1946-52 she was!
Marriage
She married my dad in 1952. She was 37 as was he but I think she was pretending she was 32. She was rather a catch being an international sportswoman and a top line advertizing copywriter.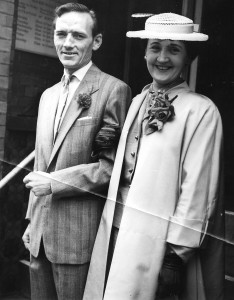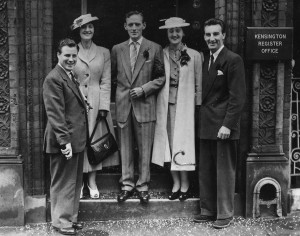 Here she is in the kitchen at home in her 90s reading one of her poems. She wrote many but had none published, though many were read aloud at her local poetry society! She loved the poet Harold Munro! 'Overheard on a Salmarsh' was one of her favourites and I would ask her to recite the poem to me which she would always do with great enthusiasm.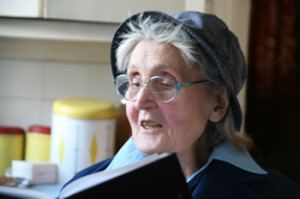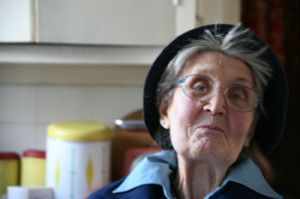 Overheard on a Salmarsh
Nymph, nymph, what are your beads?
Green glass, goblin. Why do you stare at them?
Give them me.
No.
Give them me. Give them me.
No.
Then I will howl all night in the reeds,
Lie in the mud and howl for them.
Goblin, why do you love them so?
They are better than stars or water,
Better than voices of winds that sing,
Better than any man's fair daughter,
Your green glass beads on a silver ring.
Hush, I stole them out of the moon.
Give me your beads, I want them.
No.
I will howl in the deep lagoon
For your green glass beads, I love them so.
Give them me. Give them.
No.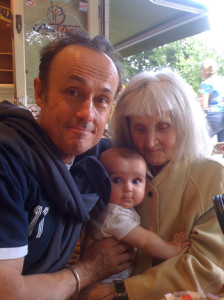 Her Obituary
She died in September 2012 aged 97. She was a fabulous woman with a great sense of humour and I loved her enormously.
Here's her Obit in the Telegraph:
Pinkie Barnes
Lavender 'Pinkie' Barnes, who has died aged 97, was an outstanding table tennis player, competing for England in three world team championships; later she became one of the first women advertising copywriters.
Starting just after the Second World War she made 11 appearances for England, taking part in Corbillon Cup table tennis internationals (World Team Championships) in London, Budapest and Stockholm. The London venue in 1948 was the Empire Pool, Wembley, in front of a sell-out crowd of 15,000 , and Pinkie Barnes was "shaking in her plimsolls" as she "gazed in awe at the size and noisy enthusiasm of the crowd". Despite the jitters, she and her English team-mates went on to win , repeating their success in Paris from a year before.
She was a key member of the team – a highly-effective chop backhand causing her opponents to dig the ball out high over the net, whence she would dispatch it with glee with her venomous forehand.
She took her looks equally seriously, declaring "the better I look, the better I play" and was regularly pictured with her doubles partner, Peggy Franks, in newspaper reports. In fire stations, where they played exhibition matches during the war to boost morale, they were promoted on posters as "Pinkie Barnes the Black Beauty [she had black hair] and Peggy Franks the Blonde Bombshell".
After the war Pinkie – as a child she hated being taunted as "Lavvy" – won the Dutch open singles on several occasions and was equally successful in Scandinavia, as well as playing for her county, Surrey .
In the 1950 world championships at Stockholm, having parted ways with Peggy Franks, she played doubles with the then world singles champion, the Hungarian Gizi Farkas, reaching the final. But the partnership did not endure – back in London, the allure of Selfridges proved too tempting after life in war-ravaged Hungary, and Farkas was deported for shoplifting.
Lavender Rosamund Marguerite Barnes was born on April 18 1915 in Luton into a poor family of six; her father, George Barnes, was an alcoholic journalist, and her mother performed in music halls as Stellar Sinclaire. Determined to improve her lot, she took a variety of jobs on leaving school in Norwood at 15, eventually becoming secretary to the manager of the Chiswick Hippodrome. During the 1930s she was in a singing act called Sweet and Swing with her sister Shirley .
On the strength of her skills as a palmist, she became personal assistant to the first newspaper astrologist, RH Naylor of the Sunday Express. Her own readings were so accurate that she was often encouraged her to show off her talent at parties, though the subjects were not always happy to receive unfavourable news.
In 1952, after her marriage to the actor Sam Kydd (who would go on to make more than 200 films and countless television appearances in the next 30 years), Pinkie Barnes gave up table tennis and concentrated on a career in advertising. She became a successful copywriter with Masius and Ferguson (one of the few women in the business at that time) working on the Ponds cream and Veet hair removal accounts among others.
Advertising ran in her family. One brother, Micky, was chairman of the Bensons agency, where Howard (Boogie) was a leading copywriter . Pinkie Barnes won an award for her catchline: "Veet. It's always summer under your arms". Another result of her career was that she practiced the Ponds neck and face anti-wrinkle exercises — "QXQXQX" spoken rapidly — all her life.
Pinkie Barnes continued to teach table tennis in Shepherd's Bush well into her fifties and devoted the rest of her life to her husband's busy career. She proved a highly able hostess to his showbusiness friends, who included Eric Sykes, John Mills, Trevor Howard, Harry Secombe, Harry Worth, Hattie Jacques, Jack Warner and Dirk Bogarde among many others. She was a fine poet and a stalwart of the Barnes poetry society in south-west London.
Pinkie Barnes's husband died in 1982. Their son, the actor and writer Jonathan Kydd, survives her.
Lavender 'Pinkie' Barnes, born April 18 1915, died September 14 2012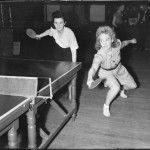 Here she is playing with Peggy Franks.