Here's a short advertizing film I did for Palexia!

Here's an ad I did recently! For Mirror Bingo! Shot by Niall Towll for Tellyjuice!

I did a lot of ads in the 80s and 90s. I was 'comedy dad' over and over again.


Or just 'comedy person'. The Casting Director Paul De Freitas had me in every week for a casting! There were many abroad. I was all over. Holland, Germany, Spain, Denmark, Sweden, Italy, Florida, and France were regular ports of call. I had a knack. Gawd knows what the knack was but I had it. I was 'pencilled' for the ad (this is when they show interest in you and means you're in line for the job but haven't quite got it yet) over and over again. In Germany, in Hamburg I think, I was the face of Citibank and even on a billboard campaign. With a credit card and a dog. Except when we shot it, the dog was never there.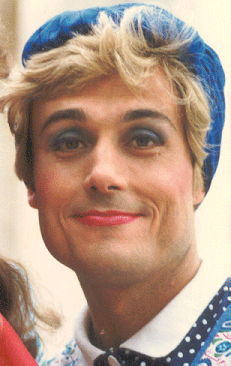 I had to imagine there was a dog. 'I'm not seeing a dog' said the German director. 'It's coz there isn't one!' I replied and did much the same thing in the next take. 'I am now seeing the dog' he said despite my having changed very little. 'It is funny!' he said. I couldn't quite see what I was doing that was amusing but he was happy! The dog was filmed the next day without me and naturally when I saw the ad, the dog upstaged me. The dog was funny. Here's a tip. Don't work with dogs. Especially when they're not there. Doing visual ads wasn't really what I wanted to be doing, wanting to be an 'arctor' and doing 'featre' and telly as I had imagined, but it was more than paying the bills. Richard Ireson my then agent at Narrow Road said doing ads was as valid as doing any other sort of acting, and I agree, but at that period if you did ads you tended to not be asked to audition for TV. Still it more than kept the wolf from the door. And I was constantly working whilst others around me were not.
AA ad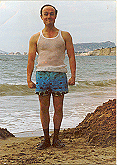 This is the 1986 AA ad where my son buried the car in the sand. It was on British TV and cinema screens for 4 years! When we were in Spain shooting it, the little boy in it (Adam Searles) kept asking me whether he had the job or not. He was 6. I kept saying, 'Adam you're here. We're shooting it! It's you!' 'But I might not be any good!' he replied all 'We're here! You are good! there's no one else!' I said. 'Yes but Keith'… (he called me Keith as I reminded him of his dog who was called Keith)..'Keith…. They might get someone else!' 'Adam! they won't get someone else! It's you! There's no one else out here! We're doing it! We're on a beach in Spain! This is it!' 'But what if I'm no good? What if you're no good?' He had me there. 'Well they'll have to reshoot it if we're both rubbish. But we won't be! I hope!'
He was great. As you can see.
This is 1994 Lunn Poly 'Getaway' Ad with me and the deeply talented Simon Greenall (the Meerkat from the meerkat ads) and a good friend! He only lives up the road!
Here's another Lunn Poly which Simon is in again! It's only a link though!
http://www.tv-ark.org.uk/mivana/m.php?p=Lunn_Poly_1988_T1375&spl=1
Heinz Ketchup
Here's the Heinz Ketchup ad I was in directed by the great Alan Orpin with whom I shot many foreign ads. There was a wonderful moment after we'd shot a few scenes when the head ad honcho on the set shouted out 'I don't like him'. Alan came up to me and said 'do a few of the funny things we worked out in rehearsal' and I did and the head bloke shouted out 'I like him'. Ah the world of commercials!
Here's a Statoil ad. I ended up doing a number of ads in Denmark and was the SAS airlines face for a bit. They even built a huge dummy of me flying in the airport lounge.
[youtubegallery]
Here's a continental ad I did for 'Magic Cookies'. The model was slightly aloof the whole shoot which I found somewhat annoying as she was very attractive and lived in Wimbledon. I lived in Tooting at the time.|http://www.youtube.com/watch?v=6EOp5Fud06M
Here's one of the two Twiglets ads I was in in 1990. Syd McCartney was the director. I don't know why I've remembered his name. I've never worked with him again!|http://www.youtube.com/watch?v=remF2H383KM
South Wales Electricity Board|http://www.youtube.com/watch?v=ks9W6TFJNe4
ESSO advert|http://www.youtube.com/watch?v=bbpC30QjPQE
BT commercial (silent movie)|http://www.youtube.com/watch?v=sybXrLOmxQI
Comedy Pirate KP Solos Crisp commercial|http://www.youtube.com/watch?v=sugRxzO1y5U
British Gas North Eastern advert|http://www.youtube.com/watch?v=5X1srbmKhaE
[/youtubegallery]